We did 5 Sequels We Can't Wait To Get Our Hands On, and, as promised, here's 5 Sequels We Can't Wait To See. We're talking movies for this week's 5 Fandom Friday!
Handle with care, though – this might contain some spoilers!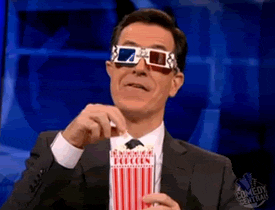 1. Wonder Woman
It's not technically a sequel – I guess it's more of a prequel, if anything – but it's part of the DCCU, and it's coming out after Man of Steel and Batman V. Superman. So it's a sequel, for the sake of this post. Because we have to include her. It's Wonder Woman, after all! She was awesome and badass in Batman V. Superman – and have you seen the trailer for her movie? How can we not be excited for that? And, huge bonus: we finally get a modern superhero movie with a female lead!
2. Justice League
This one is an actual sequel, and it looks awesome – plus, it's the Justice League, so duh! Of course we're putting it on here. I'd like to see how they get Superman back, and we're reeaally looking forward to Batman and Wonder Woman putting together the Justice League. They all look great, the trailer looks great… is it 2017 yet?
3. Star Wars
Episode VIII, Rogue One, the Han Solo movie – we don't care, just give us all the Star Wars! We enjoyed the sh*t out of Episode VII, Rogue One looks awesome – and it's Star Wars. Do I really need to say more?
4. Doctor Strange
It's not really a sequel… Maybe we should have given this post a less misleading title. Anyway. Doctor Strange. It looks like a lot of fun! And it's Marvel, and a superhero movie in the MCU, and we're suckers for those, in case you hadn't noticed.
5.  The Incredible 2
Because seriously!